Who we are?
We are a Polish company that sells high-quality refrigeration components to manufacturers of the refrigeration industry, installers, investors and restaurant chains. In addition, we are a manufacturer of modern and energy-saving refrigeration equipment, which we design, among others for: shops, petrol stations, restaurants and hotels.
We offer our clients a comprehensive service including consulting, project execution, delivery and assembly of devices as well as warranty and post-warranty service. Our offer includes the highest quality products such as: heating elements, cooling automation, controllers and meters as well as cooling devices - compressors, cooling unites from 0.5 kW to 6 MW, heat exchangers, fan motors (including energy-saving ones), liquid tanks. We also have a comprehensive offer including components for cooling and freezing chambers. Thanks to the implemented strategy, our company has an established position on the market and has become a basic supplier for key global companies. Our products can be found at the following facilities: KFC, Orlen, Lotos, Biedronka, Żabka, Auchan, McDonald's, Max Burger Premium, Burger King, Pizza Hut, IKEA, BP, Starbucks, Heineken, Carlsberg, and many others.

What makes us stand out ?

Innovation
Innovation
INNOVATION In our work, we focus on continuous improvement. We actively participate in refrigeration industry exhibitions organized around the world. Thanks to this, our company is up to date with news from the industry. We rely on innovative solutions in the field of industrial refrigeration and introduce them to the Polish and foreign markets. Our company prepared and implemented its project in the world's first Pizza Hut Express restaurant, which gave us the opportunity to present our solutions in new facilities in Europe.

Immediate availability
Immediate availability
Our company has a competitive advantage due to the immediate availability of our products. We maintain a high level of stock for our customers. The warehouse located in Wroclaw is currently stocked with tens of thousands of refrigeration components.

Ecology
Ecology
We are a manufacturer of modern and energy efficient refrigeration equipment: chillers, chillers, heat pumps, heat recovery and a number of prototype solutions in the field of air conditioning - refrigeration. In our work we strive to introduce solutions that are safe and do not interfere with the environment.

High qualified personnel
High qualified personnel
We employ highly qualified employees (refrigeration and heating engineers with international experience) who provide services in the field of technical consulting and design of cooling installations. In our work, we focus on continuous improvement and raising the qualifications of our staff. We cooperate with the Wrocław University of Technology in the field of designing modern technological solutions. We are the strategic patron of the student research club at the Faculty of Mechanical Engineering of the Lodz University of Technology.

High quality products
High quality products
In our activities, we demonstrate a strong product orientation - we focus on their reliability. We offer our clients high-quality products from European countries. We are the exclusive distributor of products of well-known and respected brands by specialists in the refrigeration industry around the world. Our company's offer is systematically expanded, thanks to which our customers can be sure that they receive a high-quality product that complies with the current standards.

Flexibility
Flexibility
We focus on an individual approach to the client. We design cooling installations in accordance with the individual requirements of investors. We offer professional advice and equipment selection, thanks to which our products are always tailored to the needs of our clients. Moreover, we make every effort to ensure that our clients are satisfied with the cooperation with our company. We are open to any changes, we research and analyze the needs of our clients and we take care of the speed of response to inquiries sent to us, which leads to a lasting competitive advantage.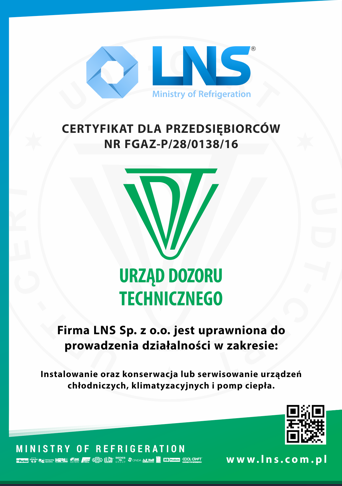 Certificate UDT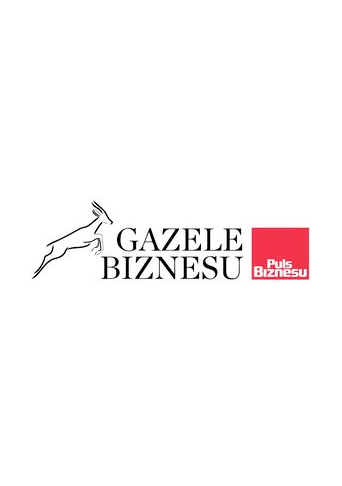 Gazele Biznesu 2018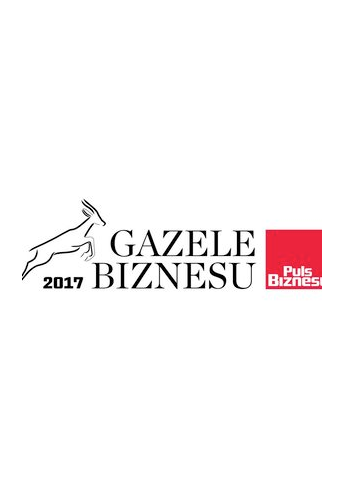 Gazele Biznesu 2017
Job offers
We are currently looking for: Salesman, Technical and Sales Advisor.
If you want to work with us and you have many advantages, send us your CV and cover letter, and we will definitely get acquainted with your application.